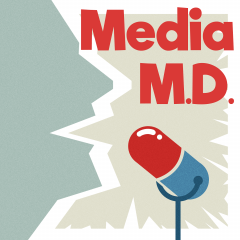 The Media M.D. Annual Checkup #2
It's been an entire year – time to get checked out. How's that case of Media overdose going? Lift your tongue and cough. Alright, now listen to this!
Statistics: 01:35
Heathers: 04:35
Solo: A Star Wars Story: 05:10
We Are Legion (We Are Bob): 05:50
Hunt for the Wilderpeople: 07:00
Showdown: Spidermen: 08:30
Chuck Tingle: 09:50
The Good Wife: 10:45
Yu-Gi-Oh The Abridged Series: 14:20
Dances Moving: 15:05
Broadchurch: 16:20
Ward: 19:00
Agents of Shield: 22:10
Crazy Ex-Girlfriend: 23:15
Marbleympics: 23:55
Showdown: Avatar: 24:55
The Expanse: 27:50
The Adventure Zone: 30:35
Westworld: 32:35
Young Justice: 34:40
Stargate SG-1: 36:00
Sense8: 39:30
Format Changes and Season 3: 42:10
Listening/Watching along with us? Got any thoughts or comments about any of our previous episodes? Leave them here!