Deep In Pact is Elliot and Reuben's second podcast. On the 5th anniversary of each chapter of Wildbow's web serial Pact, we do a deep dive into the chapter, analysing and recapping Wildbow's most underappreciated story. Join us for a celebration of the dark world of Pact, as Reuben re-experiences Blake's journey, and Elliot is horrified by it for the first time.
If you like the show, feel free to rate us on iTunes, Stitcher, Google Play or Spotify. You can subscribe directly to our feed here.
If you want to contact the show, you can reach us at mediamdpodcast@gmail.com, or, if you think email is an outdated method of communication, we also do our Deep In Pact talk through the Media M.D. Twitter and Facebook.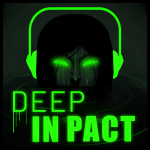 Bonds 1.1 & 1.2

Dec 18, 2018 • 44:28

Welcome to Deep In Pact, where Elliot and Reuben revisit Wildbow's most unloved work, 5 years on. This episode we kick off the project, looking at Bonds 1.1 and Bonds 1.2, introducing us to Blake Thorburn, and his world of devils and details. Read pact here. Rate us on iTunes…

Bonds 1.3

Dec 24, 2018 • 24:12

Elliot and Reuben are back to talk about Bonds 1.3, where Blake finally reaches the house, and starts learning some facts about his world.

Bonds 1.4

Dec 30, 2018 • 27:15

Elliot and Reuben are back to talk about Bonds 1.4, where Blake has a shower, and then a nice stroll. No stress in this episode at all. See – this story has downtime!

Bonds 1.5

Jan 4, 2019 • 30:45

Elliot and Reuben return for Bonds 1.5. Blake enjoys his coffee with Laird so much that he totally loses track of the time. Afterwards, he and Mirrose meet a trio of delightful Droogs Faeries, before going home to hit the books some more. Reuben's highlighted comment can be found here,…

Bonds 1.6

Jan 7, 2019 • 24:56

Elliot and Reuben return for Bonds 1.6. Blake waits for the worlds most tense pizza delivery, and finds some nice clean unused storage space in the attic.

Bonds 1.7

Jan 11, 2019 • 29:21

Elliot and Reuben tackle Bonds 1.7. Blake learns more about Barbatorem, but doesn't seem to register that Rose was totally right and he shouldn't have gone up there at all. Just kind of moving on, Blake performs the awakening ceremony, gaining the ability to see and do magic. Rose also…

Bonds 1.x

Jan 14, 2019 • 38:42

Our first interlude, where we finally learn just what made Rose Sr. like that. Also – we made a few mistakes in this episode. We mistakenly refer to Pearl Duchamp as Paige! Oops! Also, apparently there is a famous demon called Furfur! So – add that to the mistakes tally…

Damages 2.1

Jan 18, 2019 • 29:48

Deep in Pact returns to tackle Arc 2: Damages, which is not an ominous title at all. Blake makes a splash at the council meeting after beating up his cousin over some groceries. Also, Blake allows Rose to be there.

Damages 2.2

Jan 21, 2019 • 34:54

We're back for Damages 2.2. Blake is not as much of a wheeler and dealer as he thinks he is. Unless it counts that he's WHEELY good at getting bailed out by Rose?

Damages 2.3

Jan 25, 2019 • 25:52

Time for Damages 2.3. Blake and Rose meet a lovely lady who used to live in the area, and finally find someone willing to team up with them. Also, some normal human lawyers show up just as requested.