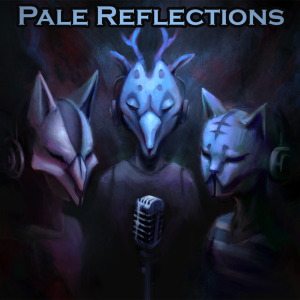 Pale Reflections sees the award winning* podcasting duo of Elliot and Reuben return to the world if the Pactverse as they follow along with Wildbow's newest web serial Pale as it is released. Each week, they do a deep dive into the 2-3 latest chapter releases, analyzing and recapping Wildbow's supernatural murder mystery. Follow along with us as we all experience this story for the first time!
Subscribe to Pale Reflections on Apple Podcasts, Stitcher, Google Play Music, or via RSS
If you want to contact the show, you can reach us at mediamdpodcast@gmail.com, or, if you think email is an outdated method of communication, we also do our Pale Reflections talk through the Media M.D. Twitter and Facebook.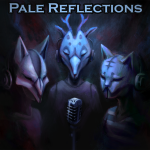 Loose Ends (2)

Sep 17, 2023 • 01:21:30

Pale Reflections wars with Loose Ends e.2. Lucy is not having a great time, being so swamped by all these things that she refuses to let anybody else do! Luckily for her, her new familiar Grandfather knows just the solution – stop being such a doofus! Remember – we record…

Loose Ends (1)

Sep 14, 2023 • 02:00:40

Pale Reflections rebuilds Loose Ends e.1. Malia joins Elliot to discuss how Verona and Avery are reconnecting with their families in a post-Charles world, and we also wonder what else is coming as we struggle to say goodbye to this story. Remember – we record our episodes live! If you…

Reflecting on Finish Off

Sep 13, 2023 • 03:12:02

Pale's main story might be finished off, but Pale Reflections still has a bit left in it! Elliot is joined by Tommy (he/him) from Twigging onto Twig, and Tisarwat (they/them) from reddit to discuss the final arc of Pale! We discuss alt-right-abyssal pipelines, dead goblins that liked nails, and whether…

Finish Off (17)

Sep 1, 2023 • 01:39:52

Pale Reflections loses itself in Finish Off 24.17. We see the final trial of Charles Abrams, as he attempts to Forswear the Kenneteers, and every else calls him out on it. Remember – we record our episodes live! If you want to catch them, join the discord. Answer the discussion question,…

Finish Off (16)

Aug 27, 2023 • 01:07:23

Pale Reflections ignores Finish Off 24.16. Avery is running alone through the new Yellow Heron, getting glass in her shoes, and generally having a bad time. Luckily, Charles and Ryan are ready to make things even worse just as she starts to think she's doing okay. Remember – we record…

Finish Off (15)

Aug 20, 2023 • 01:16:32

Pale Reflections is traumatised by Finish Off 24.15. Lucy completes the first stage of the Crucible, barely. Then, she engages in guerrilla warfare against a number of cults, before taking on the big man in red himself. Remember – we record our episodes live! If you want to catch them, join…

Finish Off (14)

Aug 13, 2023 • 00:58:01

Pale Reflections births Finish Off 24.14. Verona enters the Crucible, and tries to overlevel without leaving the starting area, before reuniting with the Kenneteers in a cool new cult. Remember – we record our episodes live! If you want to catch them, join the discord. Answer the discussion question, or leave…

Finish Off (13)

Aug 9, 2023 • 01:22:39

Pale Reflections deep dives into Finish Off 24.x. Charles gets annoyed by a summon, Thunder Bae dunks on the titan, Bea finally gets a human moment, Clem to catch a predators, and then Charles get stabbed! Whew – what a chapter! Remember – we record our episodes live! If you…

Finish Off (12)

Jul 30, 2023 • 00:51:28

Pale Reflections flies through Finish Off 24.12. Avery zooms around the battlefield, dropping bombs onto Pale Reflections defeats Finish Off 24.13. Lucy leads the pack in cutting a deal with Miller, then cutting down the Negateers, before finally cutting a deal with Europe. Remember – we record our episodes live!…

Finish Off (11)

Jul 23, 2023 • 01:08:07

Pale Reflections flies through Finish Off 24.12. Avery zooms around the battlefield, dropping bombs onto people. She refuses to use a sick 'your mum' on Cameron, which makes her even madder. Mad enough to nearly kill Avery, who escapes, taking a Negateacher with her. Remember – we record our episodes…