Media M.D. is a podcast run by Elliot Diebold and Reuben Moorhouse. Each fortnight they discuss a piece of media (book, movie, TV show, etc) that one of them has missed. The episode is divided into two parts. The Prescription, is where one host recommends the media to the other, and talk about why they like it. The Diagnosis is recorded two weeks later, after the other host has consumed the prescribed media, and they talk about what they thought of it.
If you like the show, feel free to rate us on iTunes, Stitcher, Google Play or Spotify. You can subscribe directly to our feed here.
If you want to contact the show, you can reach us at mediamdpodcast@gmail.com, or, if you think email is an outdated method of communication, we also are on Twitter and Facebook.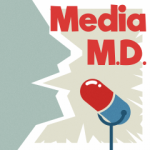 The Final Checkup

Jul 24, 2020 • 2:27:40

Flames to dust, co-hosts to friends. Why do all good things come to an end? Reuben and Elliot finish off Media M.D. by looking back at our entire catalogue. Thanks to all those who came on this journey with us! Check out the Doof Media website to learn more about…

Battlestar Galactica (2003)

Jul 9, 2020 • 34:17

So say we all! Reuben talks about the Battlestar Galactica Miniseries, and Elliot fails to not talk about the subsequent TV show. Next fortnight, it's time for our annual checkup! And it's a special one, because this is our Final Appointment! To celebrate the end of the show, we're going…

Terminator

Jun 25, 2020 • 1:00:20

We're joined by Scott and Matt to discuss Terminator and T2. Does it hold up like the CGI in Terminator 1? Or like the CGI in T2? Next fortnight, we'll be back to discuss Battlestar Galactica. Did I already use that joke? Anyway, the prescription stars at 53:07. Check out more from…

Silence of the Lambs

Jun 11, 2020 • 38:57

For a movie called Silence of the Lambs this sure had a lot of talking in it! Talk about false advertising! Elliot and Reuben discuss the cannibal classic that warms hearts and minds (before eating them). Dont worry, because next fortnight, we'll be back with a discussion on The Terminator.…

Star Wars: The Clone Wars (2008 TV series)

May 28, 2020 • 1:01:37

Padawans Reuben and Elliot are once again joined by Jedi Master Georgia to talk about Season 1 of The Clone Wars TV show. The question is, does it Star Soar? or is it a Star Bore? Next fortnight, we're putting the lotion on the skin, as we check out The…

Annihilation

May 14, 2020 • 51:06

Before you lies a shimmering barrier that no one has have returned from. It's growing, and soon it will consume us all… but enough about Media M.D. and it's addictiveness, let's talk about 2018's Annihilation. Next fortnight, we're journeying to an animated galaxy far far away, by leaping into Star…

Alice Isn't Dead

Apr 30, 2020 • 29:50

*radio noise* Dear Listener, *radio noise* This week, we step out onto the road, joini- *radio noise* as she journeys across america to look for- *radio noise* Alice isn't Dead, the horror podcast from Nightvale Presents. Next fortnight, we're stepping into the shimmer, as we dive into Alex Garland's Annihilation.…

Fantasy High

Apr 16, 2020 • 43:38

It's like the breakfast club, but the club deals 1d4 bludgeoning on hit. Elliot and Reuben discuss this D&D romp. Watch the first episode here! Next fortnight, we'll be doing a spooky roadtrip, with Alice Isn't Dead.

Little Shop of Horrors (1986)

Apr 2, 2020 • 37:16

Hey, come and see this weird plant we put in our podcast's window. And while you're here, you should buy 100 Doof patreon credits. Next fortnight, we'll be playing along with Fantasy High. The Prescription starts at 28:12.

Grave Of The Fireflies

Mar 19, 2020 • 30:50

The best kids movie since Boss Baby, Elliot and Reuben discuss Grave of the Fireflies. Next fortnight, we'll be singing and bopping along to Little Shop of Horrors, prescribed by listener AquaBuddha.