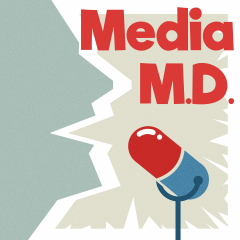 The Media M.D. Annual Spectacular 2019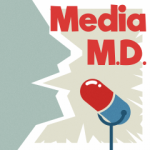 It's that very special time of year again! To celebrate our 3rd anniversary of doing this show, we're revisiting all our old prescriptions, and talking about some of them with news and updates.
Plus – The Golden Stethoscopes – our new annual awards for the content that has achieved great heights (or some lows) this year.
Plus – A new prescription for next week! We'll be discussing The Flintstones – the 2016 comic series!
Plus – A big announcement!
What did you think about this episode? Let us know, or leave us your thoughts on The Flintstones!
Timestamps for everything we talk about:
3:53 – Data Talk
7:56 – Prisoners
9:14 – X-Files
11:24 – Final Space
12:33 – Rake
13:45 – The Dragon Prince
17:03 – Sapien
18:30 – The Good Place
20:58 – Orange Is The New Black
21:59 – Gremlins
23:12 – 36 Questions
24:59 – Last Chance to See
26:12 – Apocalypto
26:42 – It Follows
27:45 – Explained
28:08 – Pulp Fiction
28:49 – Game of Thrones
31:05 – Rocky
31:29 – The Umbrella Academy
31:40 – Comrade Detective
31:55 – David Tennant Does a Podcast With
32:05 – Galaxy Quest
32:42 – Good Omens
33:56 – The Land Before Time
34:48 – Stargate SG-1
35:26 – Young Justice
36:44 – Worm / Ward
40:53 – Westworld
43:35 – The Adventure Zone
45:56 – The 100
48:01 – The Expanse
50:18 – Okja / Parasite
51:54 – One Punch Man
52:32 – Crazy Ex-Girlfriend
56:46 – John Wick
57:05 – The Good Wife / The Good Fight
1:03:09 – Hunt for the Wilderpeople / Jojo Rabbit
1:04:53 – We Are Legion (We Are Bob)
1:06:21 – Heathers
1:07:17 – Avatar
1:08:56 – Black Mirror
1:11:50 – Marblympics
1:12:56 – Agents of S.H.I.E.L.D.
1:21:16 – Yugioh The Abridged Series
1:21:33 – Legends of Tomorrow
1:22:44 – Spidermen
1:25:17 – Would I Lie To You?
1:26:20 – The Golden Stethoscopes
1:38:49 – The Flintstones